Expense tracking for Billing & Employee Reimbursement
Our expense software is designed to take the pain out of expense tracking. Your employees can track their mileage and expenses right from their phones or computers. Our popular mobile website allows employees to upload photographs of their receipts along with their expense entries. Expenses can be linked to specific customers, jobs, and expense types for simplified accounting and detailed, real-time reporting.
Link Expenses with Customers and Jobs
With Timesheets.com, you'll be able to track mileage and expenses against the same customers and jobs you currently use for billing or job costing. This provides impressive continuity of data between your time and expense tracking and allows you to run reports that provide a complete picture of your profitability.
Bonuses, Commissions, and Per Diems
We do much more than just mileage and expenses tracking. Timesheets.com is capable of tracking all kinds of supplemental costs that go beyond normal reimbursable expenses, all of which can be linked to customers or jobs. We even allow negative amount entries to track things like cash advances. With all your bills saved in the same place, employee reimbursements become much easier when it's time to tally up costs.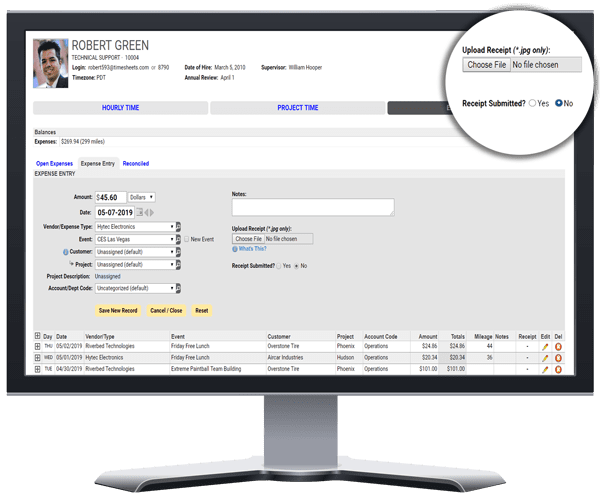 Mobile Expense & Mileage Tracking
Employees snap pictures of their expense receipts which are available to managers in real-time. You'll never have to wait for a receipt again. Receipts are stored in standard PDF format so you can download and attach them to invoices. Our mileage tracking feature allows your employees to enter their miles and upload an image of their odometer.
Real-Time Expense Reporting
Timesheets.com offers powerful reporting features. Reports can be filtered by employee, customer, job and other lists so you know exactly what your costs are in real-time. All reports can be exported to QuickBooks or downloaded into PDF or spreadsheet.
Ready to give Timesheets.com a try?