Expense tracking for Billing & Employee Reimbursement
Our expense software is designed to take the pain out of expense tracking. Since employee expenses get shared online immediately, you can get rid of filing cabinets full of paper receipts and printed expense reports. Tracking mileage and expenses online makes it easy to keep billing and payroll up to date because entering expenses online is so efficient. You won't have to wait until month-end anymore to receive expense receipts!
Assign Expenses to Projects
Timesheets.com helps you manage your time and expenses all in the same place. When you track expenses against the same projects and customers you currently use for billing hours, you'll have continuity of data between your time and expense tracking. This is important because it simplifies billing and job costing so that you can focus on what matters: your work.
Beyond Expense Tracking
With expense tracking software, you can do more than just track mileage and expenses. Other employee payments can be recorded here too. You can record bonuses and commissions for your employees and track negative dollar amounts for cash advances. The great part is, all these employee payments are in the same place. This makes employee reimbursement so much easier when it's time to do payroll.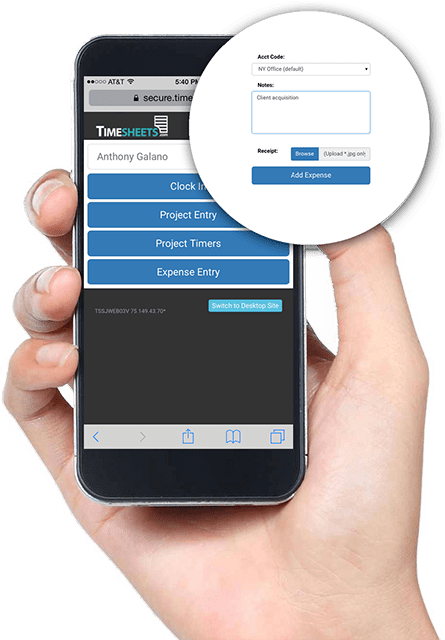 Mobile Expense & Mileage Tracking
Employees use their smartphones to snap pictures of their expense receipts so they're directly available on their accounts in real-time. You can download expense receipts anytime. When you do, they'll already be converted to the standard PDF format and ready for billing or employee reimbursement. Mileage tracking is easy too. Employees add mileage to their expense sheets just by entering the number of miles they drove.
Real-Time Expense Reporting
Employees enter expenses and receipts right from the field with their smartphones. The records are immediately available for expense reporting and exporting purposes. You can filter your reports by employee, customer, or project so you know exactly what your costs are in real-time.
Ready to give our expense software a try?