Powerful Reporting that's Actually Useful
Whether you are tracking time for payroll or dozens of projects for client billing, our reporting is up to the challenge. It's easy to use and flexible, allowing you to choose what you want to see in varying levels of detail. Focus in on one worker, customer, or vendor - or any combination you need. No one has reporting like Timesheets.com.
Time Reporting
Timesheets.com allows you to create over 50 customized reports that help you gain total control of your overtime and billing. Our payroll and project time reports can be viewed and downloaded in multiple formats or exported to payroll or accounting software. If you have an unusual requirement for your export format, that's not a problem either. We will work with you to come up with a solution.
Expense Reporting
Expense reports can be created by vendor and can be grouped by customers, employees, and even specific events. You will be able to see exact costs in real time and even view or download images of the actual receipts. Reimbursement has never been easier. Our expense reporting also works great for bonuses, commissions, and per diems.
Detailed Audit Trails
We track every change to every time and expense record in a comprehensive, easily accessible audit trail. We also capture IP addresses and other useful information you might need in case of an audit. Your protection begins and ends with good recordkeeping processes. With Timesheets.com, you'll never be left wondering "what happened here?".
Location & Tardy Reports
Our location and tardy reports show much more than just simple attendance information. We incorporate IP addresses, GPS mapping with pins, and even show when employees miss shifts or have unscheduled work days. Our reports can also be compared against employee schedules or preset scheduling.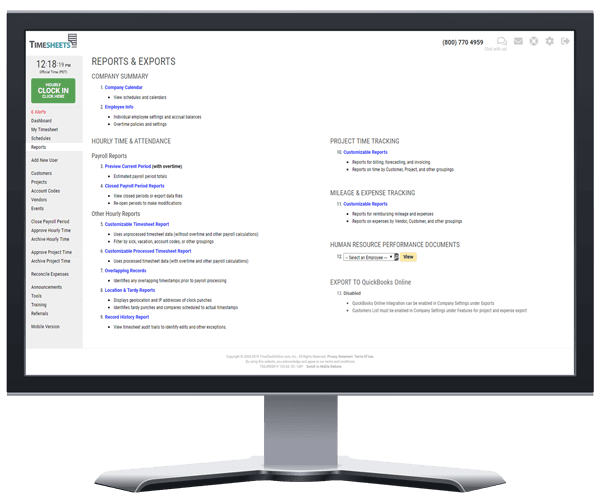 Real-Time Reporting & Exporting to QuickBooks
Run up-to-the-minute, customizable reports anytime and export your data in several formats. Timesheets.com exports to PDF, text, spreadsheets like Excel and Numbers, and accounting packages like QuickBooks Desktop and QuickBooks Online.
Give Timesheets.com a try!