Online Time Clock for Employees
Manage your employees' timesheets in the cloud with office restrictions and GPS tracking.
A Time Clock in Real-Time
View employee attendance right from the Dashboard. Review real-time totals on the timesheet. Run reports anytime on up-to-the-minute data. From the office or on the move, you'll always be aware of what's going on at work.
Supervisor Approvals
Managers can resolve edit requests and time off requests individually or en masse. Approving employee timesheets prior to closing the pay period helps keep payroll accurate in each department.
Security Settings & Audits
Customized permissions settings help you avoid "buddy punching", punches from unauthorized locations, and even early clock in. Our audit trail keeps track of every single change made to a record.
The Online Time Clock Employees Love
Employees are quick to adopt our online time clock, clocking in to work with just one click. They can categorize the records on their timesheets, leave work notes, and even request time clock adjustments, all from one simple screen. This efficiency and accuracy pays off with reduced payroll!
GPS Tracking for Mobile Devices
Track employee attendance on mobile and be confident that employees are where they're supposed to be. GPS tracking records the location of employees who work out in the field. Managers can run reports and see all their employees' location data integrated with Google maps. Don't want employees clocking in and out from their phones? No problem. Our service can be locked by IP address.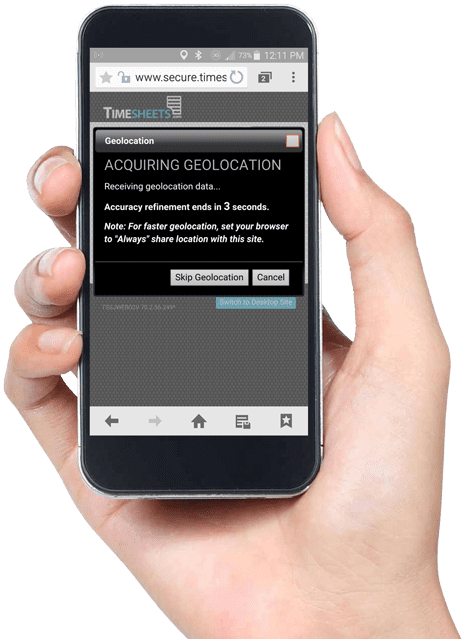 Payroll Reports & QuickBooks Integrations
Run reports at the end of the payroll period and send them off to your payroll processor with the click of a button. Timesheets integrated with QuickBooks simplifies payroll. There are exports for popular payroll software like Paychex and ADP. We can also create customized export files for your accounting system.
Location, Tardy, & Overtime Reports
Increase profitability and find opportunities to improve efficiency with our intuitive reports. Identify where you're losing money from payroll and billing and let our time clock app plug the leaks.
Start tracking time online!